Instructional Alumni
Part of our Past, Part of our Future.
Our hallmark has always been the quality of our people and the quality of our instruction. That said, the only way we could have gotten here is through the contributions of a group of remarkable instructors and divemasters.
Thanks guys, for helping Surface Interval Training "teach the good life!" And remember, you're always welcome here!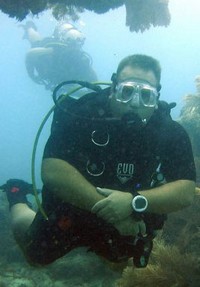 Spencer Jackson
PADI IDC Staff Instructor
Co-Founder

In 2006, Spencer Jackson teamed up with fellow PADI Instructor and Rollins College Alumnus Kevin Green to found Surface Interval Training. Jackson, an IDC Staff Instructor, has been a

PADI

Professional since 1997 and a PADI Instructor since 2000. Having started diving at the age of 12, Spencer has logged hundreds of dives in the warm waters off Florida and around the Caribbean. Spencer is also an authorized First-Aid and CPR Instructor through Medic First Aid, as well as an Emergency First Response Instructor, and Divers Alert Network Instructor. Spencer has also achieved manufacturer's equipment repair technician certifications from Tusa, Zeagle, and Cressi-Sub.
In addition to his recreational scuba certifications, Spencer has earned his Cavern Diver certification from NACD, NSS-CDS, and PADI.
Spencer completed his undergraduate degree in Biology from

Rollins College

in 1998 and his MBA with a focus on HR Management and Organizational Development. Spencer also holds the coveted Six Master Black Belt certification.
Spencer was an active part of Surface Interval as its co-founder from 2006 until late 2010. And although he is no longer involved in the business, is still a great friend of Surface Interval!
Jeff Pansiera


Divemaster
Extended Biography

Jeff Pansiera is the newest member of the Surface Interval Training staff. Jeff joins us through our internship partnership with Rollins College, and has recently received his Divemaster rating.

Jeff received his Open Water Diver certification in 2005, as a college freshman at Rollins and was the second person to complete the Surface Interval Training - Rollins College Academic Internship. Jeff is certified as a Medic First Aid Provider, with training in First Aid, CPR, and AED use. He also holds the DAN Oxygen First Aid for Scuba Diving Emergencies certification.

Jeff received his A.B. in International Business at the College of Arts and Sciences at Rollins College in December 2009.

He is a proud member of the Tau Kappa Epsilon Fraternity, and served as President of the Zeta-Phi Chapter.